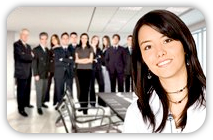 Real-Comp is an industry leader in the field of intelligent, data-driven direct mail marketing solutions. We have been an Allstate marketing vendor for over 20 years since developing an exclusive suite of insurance prospecting products for their agency force. The quote letter program has been implemented by hundreds of agents across the country to grow their book of business. Our individualized, attentive customer service approach allows us to work one-on-one with the agent, helping them maximize their marketing budget and ensure a high return on their investment.
Every mailing is built on the foundation of quality data and effective messaging. Our Allstate letters are successful because they provide each prospective customer with specific policy and rating information, and a personalized premium estimate.
Real-Comp's direct mail solutions allow agents to put their marketing programs on auto pilot. We handle every aspect of a mailing from start to finish, and continue to manage the campaign from month to month.
As an Allstate Select Vendor Program partner, we pledge to bring you marketing solutions that will increase sales and grow your business.
CONTACT INFO
For general comments, suggestions and questions:
feedback@real-comp.com
For questions regarding a specific order or about placing an order:
production@real-comp.com
Phone: (800) 664-5336

Real-Comp
17865 Mary Polk Rd.
Justin, TX 76247

Office Hours: 8am-5pm CST