Your Industry Leader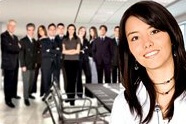 Real-Comp is dedicated to helping you achieve business success by providing a wide range of data and direct mail marketing solutions. With over years of industry experience, we understand the importance of quality, personal service. Our knowledgeable customer support staff will assist you with campaign planning and implementation of project initiatives as well as answer specific questions you may have regarding our products and services. Our priority is to ensure that you gain the competitive edge required to maintain and grow your marketplace presence, whether you're an individual, small business, or large corporation.
Real-Comp was founded in Austin, Texas in 1982, and since then we have continued to build and solidify our reputation as an industry leader in the data services and marketing fields. While our products and technology have evolved during this time, our commitment to quality, unparalleled service, and innovative business solutions has remained unchanged. To this day, we are uniquely positioned to respond and adapt to the constantly changing requirements of the marketplace.
Throughout this period we have been privileged to serve an array of industries including insurance agents and underwriters, real estate professionals, mortgage lenders, appraisers, title companies, law enforcement agencies, municipal courts, lawyers, and many more. This diversity of clientele speaks to the value and range of products we offer.
Our objective is to ensure that your individual business needs are met with the highest level of ease and satisfaction possible. We welcome the opportunity to earn your business and pledge to work one-on-one with you to realize your data and marketing goals.
Contact Information
Home Office:
Real-Comp
13284 Pond Springs Rd. Ste 101
Austin, TX 78729
Contact Home Office By Phone Or Fax Regarding Any Sales, Tech Support, Or Feedback:
Phone: (800) 580-8300
Fax: (512) 483-6969
Contact Home Office By Email:
---
Dallas Production Office:
Real-Comp
17865 Mary Polk Rd.
Justin, TX 76247
Contact The Production Office By Phone Or Fax Regarding Any Allstate® Product Sales Or Feedback:
Phone: (800) 664-5336
Fax: (512) 597-3098
Contact The Production Office By Email: